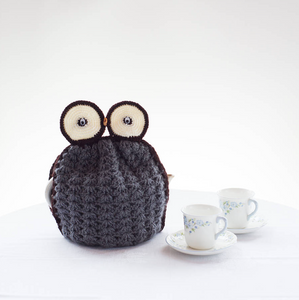 This cute owl tea cosy is a great gift for any tea lover.
Made using acrylic yarn with plastic eyes and wooden beads as a beak.
Please wash this by hand in warm water and dry on a flat surface.
Measuring around 25cm wide 18cm high using 100% acrylic yarn it will fit onto most normal-largish teapots as the stitch makes it nice and stretchy (these are hand made so size may vary slightly one to another) if you have a requested size please let me know and I can probably make one to order for you.