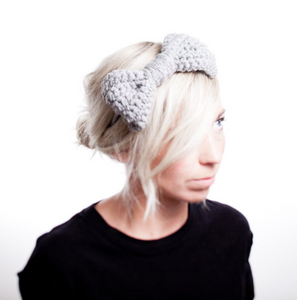 These Bow Headbands are made to order, currently taking 10 working days. 

If you would like to discuss colours or materials or different sizes, please get in touch to chat about options. Otherwise I will be making them in the usual colour options with a bow measuring about 25cm on the regular option and 32cm on the extra large option. 
My new XL bow headband is amazing
Thank you so much Gilly for such an incredible XL bow headband! It is sooo unique and super cool! I love it and I am definitely ordering another one soon!
I love EKA
New Year and a New Headband
I have placed my order for a new headband as it is a new year!
I am so looking forward to receiving this order from Gilly!
I love EKA and I will placing another order later this year!
Thank you to Gilly :)
These headbands are amazing! I have several and Gilly has such a talent to make them…I will be ordering again before the end of the year!
A fan of EKA!
I have placed my order for my new crocheted black bow alice band!!! I am super happy :) This is wonderful! Thank you soooooo much :)
I am a huge fan of EKA :) I love it!